CDL Pharma, a division of CDL Laboratories, offers global laboratory services for multicentre clinical trials with a flexible approach.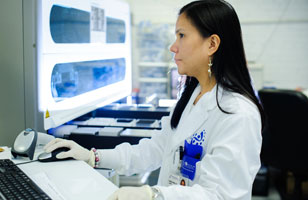 With many years' safe and compliant track record, CDL Pharma is well positioned to provide you, from St-John's to Victoria Island, with a global package or a customized choice of support regarding laboratory management of your clinical trials.
CDL Pharma is led by professionals with over 20 years of solid experience in clinical trials and works closely with a highly experienced project management team.
We adapt our services to the unique needs of your study. Our distinctive approach consists in providing robust project management, customized lab operations manual for investigator sites, customized lab materials, customized requisitions and reports, lab supplies shipping and management during the study, customized documentation for the follow-up of each site and the whole study, sample transportation, archiving, electronic data transfer, storage of specimens (-20°C, -80°C).
Our clinical trial team works seamlessly with your team, anticipating your needs and responding quickly to your requests. Moreover, this team collaborates with study sites every day to facilitate their work and ensure the success of the study.
CDL Laboratories, a fully equipped GLP/GCP compliant laboratory, deliver quality assured data, effective sample transport, sample tracking as well as comprehensive data and management reports. They possess the key ingredients essential for offering Central Laboratory Services of the highest quality standards to the pharmaceutical industries and the CROs:
Accreditations: CAP
GLP compliant
4 LSPQ licences allow CDL to perform 98% of requested tests in-house
Modern laboratory instrumentation
Broad range of analytical capabilities (over 2000 tests)
Round-the-clock analyses – 7 days a week
7-day storage for repeat tests
Secure long-term storage (-20°C, -80°C) and modern temperature monitoring system
Rapid turnaround times
Strong QA support
Logistics management
Dedicated and experienced staff
Robust Project Management & Data Management
21 CFR part 11 compliance
CDL Pharma team's combination of expertise and experience makes it possible to provide a rapid, reliable and responsive service ensuring all results are precise and delivered on schedule.