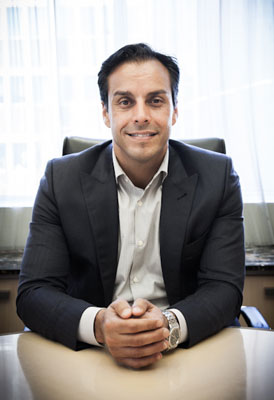 I am proud to be the leader of CDL Laboratories, a dynamic organization of over 100 employees and consultants, with a rich history of success. It is an exciting time for our company, as we are uniquely positioned to capitalize on unprecedented growth and great opportunities.
Since its inception, CDL Laboratories has remained dedicated to its mission, which is to promote an organization focused on client satisfaction, quality, service excellence, state-of-the art technology and innovation. We have been able to attain our goals through this approach. Our constant progress has enabled us to reinforce our position as the leader in the Quebec private diagnostic laboratory industry, to obtain the most sought-after accreditations (including CAP and ISO 15181), and to enjoy a strong partnership with Roche Diagnostics.
We strive to satisfy our customers through quality service and keep optimizing our processes in order to streamline our management approach.
We constantly review and, if need be, redefine the fundamentals of our business development plan. As a result, we have launched the CDL Group. The objective is to enable physicians (over 2500 physicians) to provide their patients with a more accurate diagnosis and thus, an appropriate treatment.
The CDL Group includes the following entities:
CDL Laboratories, a division that provides diagnostic laboratory testing to doctors' offices and clinics,
CDL Clinix, this division has become ELNA Medical, a network of over 15 integrated multispecialty medical clinics (www.elnamedical.com).
CDL Pharma, a division focussed on the pharmaceutical industry,
CDL R&D, a division dedicated to R&D activities,
CDL Soft, a division dedicated to the development and maintenance of the Laboratory Information Management System (LIMS). This division is focused on providing a strong, reliable information management system, which constitutes the core of our organization. New features are frequently added to our current system to facilitate processes and offer an even better and more personalized service to our clientele.
CDL Proton Therapy Center, a division that will be the first Proton Therapy Center of excellence in Canada. Our strategic partners include IBA, world leader in this industry (www.iba.com), Proton Partners International and The Rutherford Cancer Centres, world leader that operate the most important network of cancer centres in the world, providing all-encompassing cancer services for patients.
Serving our clients since 1993 has certainly been both an honor and a privilege. We are extremely proud of our past and excited about our future, and wish to extend our warmest thanks and gratitude to our clients for their continued confidence and strong support.
Laurent Y. Amram
President